Top quality nursery plants always
ALDRUFEU & ASSOCIATS has always been involved in the production of top quality nursery plants, to best satisfy its customers' needs, working in the most demanding markets
Using the most appropriate techniques
In vitro cultivation:
Allows top quality vegetable material to be obtained: free of diseases and with a greater branching capacity, resulting in well-sustained optimum plants.
Cultivation from cuttings:
A method of vegetative reproduction that results in better prices but with an equally satisfactory result.
Combined techniques:
In this case, we apply in vitro cultivation techniques in order to obtain the mother plant, which is then used for reproduction based on cuttings, obtaining vegetable material of a better quality than usual at a lower cost.
With the most appropriate service
Both the size of the company and its specialisation as an exclusive producer of nursery plants, allow us to offer services tailored to our clients, according to their needs:
Reinstating a mother plant:


Argyranthemum, Chrysanthemun, Dianthus, Dieffenbachia, Hydrangea, Pelargonium, Rose...

Acclimatising in vitro plants:


Cordyline, Yucca, Phormium...

Reproduction of clients' own breeds:


Artemisia, Gardenia, Limonium, Origanum, Salvia, Thymus...

Tailored reproduction of species:


Abelia, Beloperone, Boronia, Callistemon, Convolvulus, Coprosma, Cupressus, Cytissus, Chamaelacium, Gaura, Hardenbergia, Hibiscus, Lampranthus, Lotus, Melissa, Nerium, Ocimum, Plumbago, Thunbergia, Trachelospermum, Trhyptomene, Santolina, Syzygium...
With a broad range of products:
With quality as our rule, we produce a wide variety of plants, allowing us to offer a range that adapts to the needs of all our clients: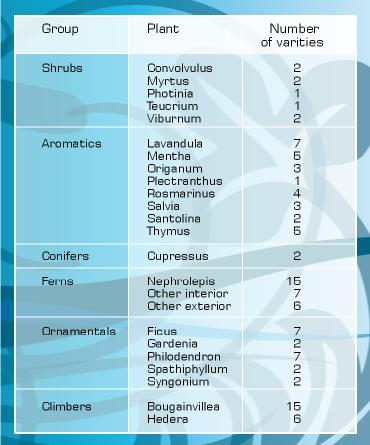 Our production centres
ALDRUFEU & ASSOCIATS has two nurseries: one in Vilassar de Mar (Barcelona) and another in Riudarenes (Girona).